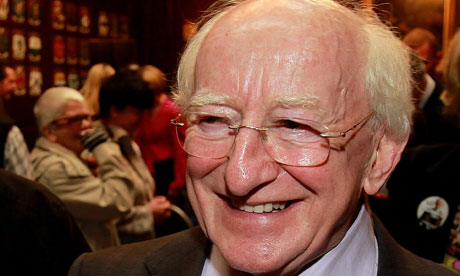 Michael D Higgins, who will be Ireland's ninth president. Photograph: Julien Behal/PA
The Associated Press (AP) and the  Guardian are reporting from Dublin that after the votes were counted – veteran left-wing politician Michael D. Higgins has won Ireland's presidential election with more than 1 million votes and a nearly 57 percent share of support.  The results capped a two-day count of ballots to determine who would succeed Mary McAleese – Ireland's nationally and internationally popular president who has served since 1997. Higgins – aged 70 born in County Limerick – is a former university lecturer and published poet who has dedicated his four-decade political career to championing Irish culture and left-wing human rights causes worldwide. Rivals bested by Higgings included former IRA commander Martin McGuinness – who was hosted in Lowell a few years ago by then Congressman Marty Meehan – and Sean Gallagher. From all accounts its was a lively campaign.
Read more here at the the guardianuk.com. and for more about Michael D. Higgins here at the bbc.com and here is the full AP story.